Bio Colors lenses are custom soft cosmetic and prosthetic tinted contact lenses.
They utilize the Orion Vision Group's sub-micron size pigments on Alden Optical's SE design as a base lens allowing full custom parameters plus advanced Dual Elliptical Stabilization.
There are 16 tint colors available which can be combined to match your iris.
Cosmetic Features:
Starbust (available in most colors)
Limbal ring (available in most colors)
Underprint shades (4 colors)
Occluded pupil
Pupil Size (0, 3.5, 4.0, 4.5, 5.0, & 6.0mm)

Insertion
Wash hands using perfume free soap and dry with lint free towel.
Setup a mirror at eye level.
Inspect the lens to see if it is inside out
Place the lens on tip of finger with the concave side up. Making sure the contact lens forms a perfect bowl shape with the edges appearing straight. If the edges look flared out the lens is inside out.
Place the lens on your index finger.
With your index finger of your other hand, pull your upper lid up at the lash line.
With the middle or ring finger of your hand holding the lens, pull the lower lid down.
Look into the mirror and gently place the contact lens directly onto your cornea.
Look up and down before blinking.
Removal
Pull up on your upper eyelid with the index or middle finger of one hand and pull down on your lower lid with the ring finger of your other hand.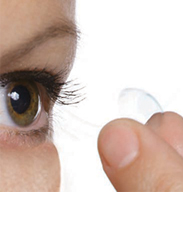 With dry fingers, pinch the bottom of the soft skirt at the 5 & 7 o'clock position. If you have difficulty pinching the lens skirt, dry your fingertips and try again.
Recommended replacement schedule for Bio Colors lenses is every 1 year.
Please allow 2-3 weeks for delivery when ordering your replacement lenses. For this reason it is recommended to have a backup pair of lenses in case of loss or damage.